Air Hugs and Blown Kisses
I want to touch, to kiss and hug, dance our own style jitterbug,
Cuddle while we whisper talk, holding fingers on our walk,
Share a blanket on the beach, close within each other's reach,
Have my arms reach out to you, hoping for a follow through.

Air hugs, blown kisses
Reaching out--touching you
Air hugs and blown kisses
A new way of loving you
Air hugs, blown kisses
Fill the air surrounding you
Air hugs is all that I can do  
I want to kiss away those fears, gently wipe away your tears,
Hold on tightly while you sleep, my lips pressed gently on your cheek,
Reaching out through social norms, sheltered from the daily storms,
Yearning for that bonding touch, I am missing oh so much.
With all this sadness, fear and sorrow, wondering about tomorrow,
Will reaching out my hand in greeting, somehow have a different feeling,
Ever changing our routine, living with the unforeseen
And after all that we've been through, I'll never change my love for you.
Air Hugs is all that we can do.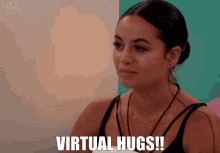 Air Hugs and Blown Kisses I want to touch, to kiss and hug, dance our own style jitterbug, Cuddle while we whisper talk, holding fingers on our …